This page is being revised for 2021
I'm in the process of working with a new, charitable foundation. Updates to come!
---
Cell Phone Payments for 1st Semester of College Students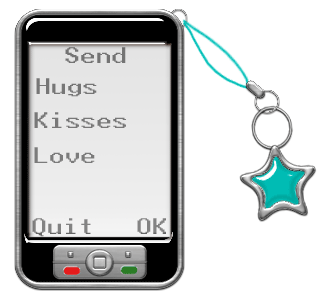 UPDATE:  A VERY special thank you to everyone who assisted Me and My Team to keep The Promise to provide a Summer of 2017 cellphone service to 100 high school graduates from challenging circumstances!  We successfully continued the program through January 2018 and are now preparing to sponsor another group of students!
By not having to worry about paying their cellphones from graduation through the end of 2017, these students were able to put their focus and finances on successfully completing their first semesters of college.
A little history: I am delighted to say that when this project began, (though it took some creativity to win the battle against the religious-creep who took over the charity and reneged on the promise to the program that was in place before his term as "Chaircreep of the Bored") My partners and I were able to keep The Promise to prior years' recipients. I am also delighted to say that of the 400 students who were recipients of Our Grants, only 1 student had to leave college due to illness (please send prayers and Healing Light) and all of the recipients are still in school!
I will announce very soon how you can help Me gift these deserving, young people who are on their way to making stellar contributions to The World!
For future campaigns, only $40 (includes tax) will give 1 month of cell phone service to one of these deserving, young people and there are other options to help Us get them through the year!
Details will be announced for the next fundraising efforts in My Newsletters.
---
Animals
Every day you play BowWow Trivia and Meow Trivia, you help feed dogs and cats in shelters! Click the banners below to play and sign up for daily reminders! Visit daily to make free contributions!
Service Animals-A service animal, such as a guide dog, signal dog, or other animal individually trained to provide assistance to an individual with a disability. Therapy animals are often pets that have been specifically trained for interaction with people with differing abilities and often work to bring cheer at senior centers, mental institutions, children's hospitals, and more. Service and therapy animals are not limited to dogs. They can include cats, horses (and even Molly, a horse with a prosthetic leg!), monkeys, and even ducks! More info on service animals can be found under The Americans with Disabilities Act. A few organizations you can donate to are:
Military Working Dog Foundation, Inc. – The Mission of the Military Working Dog Foundation is to assist the Department of Defense Military Working Dog Center in finding suitable homes for military working dogs that become available for adoption because they are no longer capable of performing their military duties.
National Education for Assistance Dog Services – NEADS (Dogs For Deaf and Disabled Americans), of Princeton, MA, is a non-profit organization, organized under section 501c (3) of the IRS code. NEADS was established in1976 to train and provide rescued dogs and donated puppies to assist people who are deaf or physically disabled in leading more independent lives at work, at home and at school. These assistance dogs become an extension of their owners and bring security, freedom, independence and relief from social isolation to their human partners. NEADS has a special Canines for Combat Veterans program. In late 2001, President Bush signed a law authorizing the Veterans Administration to underwrite programs like Canines for Combat Veterans. But the Veterans Administration is still studying the matter, so NEADS must raise all the money for its program from private sources. NEADS sells naming rights for its dogs – what a great fundraising idea! With a tax-deductible donation to NEADS, you can name one of the new arrivals entering the Laura J. Niles Puppy Nursery and Early Learning Center at NEADS. Click here to get involved!
Puppies Behind Bars (PBB) instructs prison inmates on how to raise and train puppies who become service dogs for people with disabilities and bomb detection canines for law enforcement. Many of these puppies are being placed with veterans returning from Iraq and Afghanistan. Currently, the Puppies Behind Bars program is active in seven prisons in NY, NJ and CT. The dogs are free guests of the correctional facility, but the program is a registered charity and support is always welcome. The guards and the administrators welcome them because they have noticed the positive effect that the PBB program and the puppies haves had on inmates. Inmates go through a very comprehensive and intensive training program in order to work with these dogs.  Check out the movie about the program and learn more how you can help the Puppies Behind Bars thrive HERE ~ sponsor a service dog today!
Animal Haven – a great, local, NYC no-kill animal shelter. One of the first organizations to rescue animals from the Hurricane Katrina disaster. Truly wonderful people creating a truly wonderful organization.
Best Friends Animal Sanctuary – "Best Friends Animal Society is guided by a simple philosophy: kindness to animals builds a better world for all of us." This organization is amazing! Best Friends Sanctuary is housed in Angel Canyon, at the heart of the Golden Circle of national parks in Southern Utah, where the animals – all rescued (read about the success stories of "Vicktory Dogs" who were rescued from that barbarian, NFL creep, michael vick) and have special needs where adoption, foster homes, and shelters are not options for them – everything from birds to horses, cats and dogs, pigs, fish, exotic creatures, and wild things! After receiving the proper care and training, many animals move on to good homes and adopt good families. Others spend the rest of their lives with love and care at the Sanctuary in their own little villages such as Dogtown, Cat World, Horse Haven, and Marshall's Piggy Paradise, to name a few. It's not just a sanctuary for animals. About 20,000 people visit every year from all over the world and spend time with the animals, and you're only an hour or so from some of the world's other great natural miracles.
---
Humans
Free Rice – Improve your vocabulary and make free food donations. From the site: "FreeRice is a sister site of Poverty.com. Our partners are the Berkman Center for Internet & Society at Harvard University and the United Nations World Food Program. FreeRice has two goals: 1) Provide education to everyone for free and 2) Help end world hunger by providing rice to hungry people for free. This is made possible by the generosity of the sponsors who advertise on this site. Whether you are CEO of a large corporation or a street child in a poor country, improving your education can improve your life. It is a great investment in yourself. Perhaps even greater is the investment your donated rice makes in hungry human beings, enabling them to function and be productive. Somewhere in the world, a person is eating rice that you helped provide. Thank you." Visit daily to make free contributions!
KIVA is a non-profit organization with a mission to connect people through lending to alleviate poverty. Leveraging the internet and a worldwide network of microfinance institutions, Kiva lets individuals lend as little as $25 to help create opportunity around the world. Microfinance is a general term to describe financial services to low-income individuals or to those who do not have access to typical banking services. Microfinance is also the idea that low-income individuals are capable of lifting themselves out of poverty if given access to financial services. While some studies indicate that microfinance can play a role in the battle against poverty, it is also recognized that is not always the appropriate method, and that it should never be seen as the only tool for ending poverty. Learn more about how it works.
CARE – CARE is a leading humanitarian organization fighting global poverty. We place special focus on working alongside poor women because, equipped with the proper resources, women have the power to help whole families and entire communities escape poverty. Women are at the heart of CARE's community-based efforts to improve basic education, prevent the spread of HIV, increase access to clean water and sanitation, expand economic opportunity and protect natural resources. CARE also delivers emergency aid to survivors of war and natural disasters and helps people rebuild their lives.
One Laptop Per Child – The mission of One Laptop per Child (OLPC) is to empower the children of developing countries to learn by providing one connected laptop to every school-age child. In order to accomplish this goal, OLPC needs people who believe in what they're doing and want to help make education for the world's children a priority, not a privilege. There are a variety of ways to assist this wonderful organization meet their goals and change the world. "Give a Laptop. Get a Laptop. Change the World." Please read more.
---