Events, News, Gifts, Contest & More!
By clicking on any links contained herein, you agree to the terms provided

here

and that you are of legal age and not offended by the material contained in these locations.
First Step News

I Am Now To Be Called
"Mss. Didi*"
My Fetish Evolution
Why I Don't Do Thanksgiving
Prep For NEW Soirees (I Mean It!)
Really READ: How To Attend My Events
10 Domina101™ Tips VIDEO
No Regrets ~ Ask Mss Didi*
---
My Fetish Evolution: Stage 1
~ Because I Love My Fetish Reality
~ Why I Don't Do Thanksgiving
~ Seriously, PREPARE for My New Soirees (idiot-free zone)!
~ "No Regrets: How To" ~ Ask Mss Didi*
~ ClassicFetish™ Resources
~ Stimulations

---
Being The Change I Want To See In The World
My Fetish Evolution: Phase 1
For more than a decade , as I've watched sleaze become increasingly synonymous with "Fetish" and the rise of dangerous kinksters tarnish The Scene, I contemplated changing MY Title of Mistress — which I earned and was bestowed upon Me by My Fetish Family in a beautiful ceremony — to remove association of My Excellence from fakers-shakers-takers-noise-makers.
As I've mentioned, the only reason I produce Fetish Events is because I don't like what others are doing.  And because money is not My god, My Events are charity fundraisers. which adds the cherry-on-top of MY Enjoyment of MY Fetish Fun.  I am a Giver and interested only in those who know how to receive and reciprocate.
At this point in time, and particularly, in New York City, it has become necessary for Me to launch a full-scale, Fetish Evolution to bring back integrity, intelligence, elegance, respect, and excellence to The Scene with a REAL focus on being safe, sane, and consensual without question.  Because I love My Fetish Reality, this Fetish Evolution must begin with Me.  So, I have released emotional attachment to a Title that no longer serves Me.
From now on, I am to be called, "Mss Didi."
"Mss" is the evolution of the devalued term, "Mistress," back to ClassicFetish™
and forward to define a New Era of Fetish Quality.
Throughout My lifetime, My Fetish Enjoyments and identity as a Quality Fetishist has made Me feel thrilled to be alive!  I want to feel thrilled, excited, and delighted again about engaging with a community of Quality Fetishists Who Are On My Level — people who:
Are educated and continue to educate themselves in technique and mind-body-spirit health to offer and gain the best in and from their Fetish Experiences;
Are well-mannered; self-controlled; self-aware; and interested in contributing to Excellence for all involved;
Desire to associate with others to be pleasant and create good times; and
Know their worth and are generous with themselves and others.
I was a little girl the first time I saw THIS scene from Tommy The Movie by The Who.  It was a defining moment in My Life and it is one of the best representations of how I feel when I indulge in My Fetish Enjoyments.  My goal is to feel this way in My NYC Fetish Fun again!  That's the incomparable, Ann Margret indulging in bubbles, baked beans, and chocolate…
Soirees
In the last issue of My Newsletter, I mentioned that due to the many, many and increasing in numbers of good, Fetish folks being attacked and shut-down by pathetic manipulators who are allowed to go unpunished and can easily affect YOU, My Rules and Policies for My Events continue to attract the trust of even more and more respectable and responsible people for private adventures. AND I made inference to a Private Members Fetish Club where you ARE safe — both physically and personally — and you know that you will associate with the type of Fetishists that you want to be with and whom you can trust.
In the works are a few easy events that I am scheduling for after the "Horror-days" of shopping hell are over.  So, look for announcements soon; enjoy whatever you celebrate; and be kind and respectful of what others celebrate, too!
---
Why I Don't Do Thanksgiving
It's that time of year and, earlier than ever before — even before Halloween — We are bombarded by holiday commercials and commercialism.  So, time for a laugh and some serious insight into what We put Ourselves through for tradition…
Originally written November 25, 2009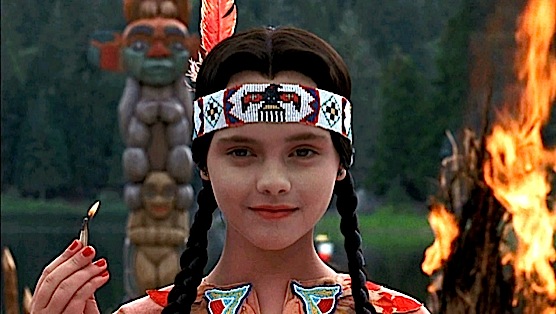 First, My many thanks to all of the wonderful people who invited Me to their Thanksgiving feasts!  It was so thoughtful and gracious of them and I consider it quite an honor to be asked to share their dinners with them.  Really, I am truly aware of how blessed I am to be cared for by so many. (To those who invited Me and read this, I expect you to be laughing at most of it as you do!  Be certain to invite Me to other gatherings, though!)
So, as I politely declined, I waited a day or two and then told My real reasons for not doing Thanksgiving:
1)  I am predominantly vegetarian and I have not eaten turkey for more than 20 years.  Since any type of meat or poultry in food will make Me ill, I always say that I'm a bummer at Thanksgiving dinners, but the truth is that I'm bummed at the boring salad that awaits Me, or worse, at the cook who thinks a "little bit of" whatever won't "hurt" Me until I'm vomiting… and attempting to make it look like an accident while I aim it at the favorite rug or couch…
2)  I don't like making people feel uncomfortable in their domains because I am not participating in the gluttony-fest.   Aside from the fact that people always feel sorry for Me that I don't eat "meat" while I feel sorry for them that they do,  I have to endure the, "that's how you stay in that shape" conversations.  This inevitably comes from the fattest person at the gathering, speaking with that second piece of pie in hand.
3)  Since I usually have to eat before I go to Thanksgiving dinner to ensure that I don't get hungry, what's the sense in going out if I've already cooked and can stay home and watch the football game?  And if I watch the game at someone's home, I'm usually the only woman with all the males and the females get their feathers ruffled more than usual when I'm in a room.  Little do they know ~ or maybe they do know ~ that the only thing I would want their men to do is grovel at My feet with tributes.
4)  There are usually children at these affairs.  I don't have the patience or the ability to be polite enough (and I have so much more politeness than seems to be the norm – especially these days) to tolerate "little precious" and the sugar-high s/he will be on the whole evening until the tryptophan kicks in.  And usually, with children, this never happens soon enough.
5)  Someone inevitably thinks I'm actually going to help ~ or even offer to help ~ in the kitchen or clear the table or something…
6)   I gave up illegal drugs before leaving My teens and there isn't a drug in the world that can make Me able to deal with "family drama" ~ especially someone else's family drama!
7)  I am blessed to have been born into a family of a very diverse group of cultures.  My tribe considers Thanksgiving a day of mourning.  It is the annual reminder that Our ancestors showed kindness to save the lives of starving barbarians who returned the gifts they were given with death to Our people, Our forests, Our buffalo and eagles, with prejudice, lies, destruction, and thievery on every level.
8) Added November 24, 2016: I don't want to receive tons of text messages from people I don't know because someone sent out a group text and folks don't know how to set their phones to reply only to sender instead of to everyone in that group!  And there's always that annoying person who wants to call to find out who you are…  Fix this on iPhone and Android.
9)  I give thanks every day and don't need one day to celebrate all the blessings that I have.
However, bah-humbug this may sound, I look forward to My day of football and pasta on that third Thursday of November!
Yet, softy-that-I-can-be, I always consider the person who has nothing to do for the "holiday" (but wishes they did) and sometimes, I invite people to come out and have a drink with Me to share some of that "togetherness" that is so highly commercialized to sell you things to buy for Christmas presents.  Fortunately, We "ain't buying it" and We give thanks for having the time to get together for a little fun in Our hectic schedules!
~~~~~~~~~~~~~~~~~~~~~~~~~~~~~~~
UPDATE: November 20, 2016
A selfish person attempted to make Me wrong for not celebrating Thanksgiving and insisted that she would call Me on that Thursday to wish Me a Happy Thanksgiving. I told her that the part of Me that is of Native American decent is insulted because saying that to Me is like saying, "Happy Holocaust Day" to a Jew.
As expected, she insisted that it wasn't the same thing; ranted in a way that deemed her version of history held more value than anyone else's truth; insisted that I was being too sensitive (that old trick that good-ol'-racists use when People of Color speak up); behaved as if she had the right to decide for Me how I should feel; and chose to be insulted (the other old trick that good-ol'-racists (even those who don't know/believe they're racists) use when People of Color speak up).  It was her 12-year old son who pointed out to her that no one has the right to tell anyone else what is or isn't an atrocity to them, and that if she wants her culture to be respected, then We must all respect others' cultures — whether We understand their feelings or not. Out of the mouths of babes… Isaiah 11:6, New King James Version (scripture edit 11/20/18)
Remember that.
~~~~~~~~~~~~~~~~~~~~~~~~~
November 14, 2012
I was given an assignment in the 7th grade to find a poem to memorize and recite.  My wonderful Mother and I enjoyed reading through many poems in Our library at home and She found this one.  What We didn't know at the time is that the assignment was for a NYCity-wide poetry competition.  I came in 2nd place with this entry – probably because the 1st place winner prefaced her recitation, "One Tin Soldier," with mention that her brother was a Vietnam veteran, and the vast majority of the judges and entrants felt much less guilt about a poem about the horrors of a more recent war.   She was a classmate and We celebrated together while wondering why We won with poems about inhumanity and sorrow when other entries were poems about love, achievement, and greatness…  Even in the 7th grade, We were aware of how guilt motivates acknowledgement, recognition, and achievement.  Evidently, guilt is not a great enough motivator for positive change in how people treat each other.
Indian
by Rosemary and Stephen Vincent Benet
I don't know who this Indian is,
A bow within his hand,
But he is hiding by a tree
And watching white men land,
They may be gods – – they may be fiends – –
They certainly look rum.
He wonders who on earth they are
And why on earth they've come.
He knows his streams are full of fish,
His forests full of deer,
And his tribe is the mighty tribe
That all the others fear.
— And, when the French or English land,
— The Spanish or the Dutch,
They'll tell him they're the mighty tribe
An no one else is much.
They'll kill his deer and net his fish
And clear away his wood,
And frequently remark to him
They do it for his good.
They he will scalp and he will shoot
And he will burn and slay

And break the treaties he has made
– – And, children, so will they.
We won't go into all of that
For it's too long a story,
And some is brave and some is sad
And nearly all is gory.
But, just remember this about
Our ancestors so dear:
They didn't find any empty land,
The Indians were here.
Benet, Rosemary and Stephen Vincent.
A Book of Americans. NY: Holt, 1961.
---
You Know What To Do: REVIEW!
PREPARE For My New Soirees!
 REMINDER:  My Events are fundraisers for My Charities
DO THE MINIMAL AMOUNT OF WORK required to be able to attend My Soirees.  I take the time and utilize My valuable energies and skills to create EXCELLENCE and I will not permit anything or anyone with less than excellent intentions to attend any of MY Creations.
REALITY CHECK:
I create My Events for what I like and want.  I invite worthy people to attend what I create. In other words, it's not all about you.

IF you want your fetishes addressed

, you can contact Me to discuss engaging My Event Design skills to create the fun to your specifications.
WORTHY people are well-mannered; have social skills; follow MY Rules for MY Events; and get invited to future fabulousness.  Even if you are all of these, it is always good to check out the wonderful resources I generously provide to ensure that there are no misunderstandings:
~> My quick read that benefits both Dominants and submissives alike: How To Present yourself To A Mistress.  Remember: the investment you make in your Fetish Education is directly proportionate to the quality of your fetish experience.
~> Read How-To Tips for submissives: First Contact and PAY ATTENTION! submissive Tip are designed to ensure that you make a good impression from the very beginning. And remember that Presentation is EVERYTHING. 
~> And I didn't forget about You, Dominants ~ Female and male:  My 10 Domina101™ Tips (see video below) will assist You in releasing the frustration that comes from the submissive vs. substandard irritations to clearly recognize the true value of the submission being presented (or more quickly see when it is not…)
I recommend that you also check out The Difference Between Fetish and kink. Refer the people you encounter to this article and use these keys for ease in your Fetish experience. If you are not part of the solution, you are part of the problem.
---
10 Domina101™ Tips Video
If you haven't seen it yet, watch this little video with My 10 Domina101™ Tips.  For more detailed info, READ HERE.
---
Currently on Ask Mss Didi*
No Regrets – How To
Tips on how to get over being your own worst enemy by focusing on what coulda-shoulda-woulda been.
Tips and Tools to include in your Play Bag for the safest and most excellent Play!
PAY ATTENTION! submissive Tip is a demonstration for the serious submissive to pay
careful attention to instructions to make a good impression to actually have what you want. I highly encourage Dominants and submissives alike to view the ridiculous mistakes that a "wanna-sub" made which could — and should — have easily been avoided.
Enjoy a FREE section of The Superior submissive™ Webcam Workshop to alleviate a LOT of stress all the way around. Read How-To Tips for submissives: First Contact and remember that Presentation is EVERYTHING.

I recommend that you also check out The Difference Between Fetish and kink. Refer the people you encounter to this article and use these keys for ease in your Fetish experience. If you are not part of the solution, you are part of the problem.
The Contents page of AskMssDidi.com has summaries of the articles for more comprehensive reading. Take advantage of My Gifts of Domain Maintenance Training Techniques for BetterFetish™!
Or take a Webcam Workshop for a condensed version of My Techniques that can be found on AskMssDidi.com.
---
Anti-Stalker Resource
I was contacted by a lovely person from CallerSmart who offered some most-excellent resources to add to My article, "How To Stop A Stalker." CallerSmart provides an excellent resource on cyberstalking and what to do if you are a victim, along with a very, cool app that helps you identify mystery callers and block those you don't want to hear from ever again. Definitely, check it out!
---
Join My MAILING LIST
If you have not already done so, PLEASE take a moment to join My Mailing List here. You can also subscribe by RSS feed — see sidebar.
---
ClassicFetish™ Resources
See articles at the bottom of this post.
Elevate Your Esteem In 2018!
---
Stimulations

more photos in My Gallery
Ann Margret in a scene from Viva Las Vegas (also starring Elvis Presley) — this makes Me laugh!
I love how each of them is fully in the moment of commitment to their groove!
---
Enjoy Life!
Always MY Pleasure, Mss Didi*
contact Mss Didi* Blackthorn
Related articles